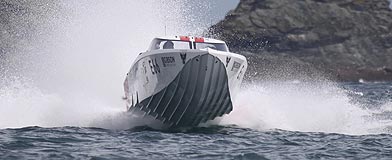 A brand new, British designed, British built International Raceboat crewed by a team of British powerboat champions has been created to compete in the 2013 Cowes to Monte Carlo Venture Cup, the longest, toughest powerboat race in the World. The E-Lites BananaShark Stirling 34 is a 37ft, latest technology raceboat, powered by a pair of fantastically efficient Yanmar engines.
These produce 520hp but are incredibly economical; dramatically lessening the environmental impact and helping the race team achieve carbon neutrality.
In June 2012, a year in advance of the Monte Carlo event, the team will conduct a Round Britain (RB) Charity Challenge, stopping overnight at 10 famous maritime venues. Here the boat and crew will be met by local charities, especially those representing children's hospices. Coordination with the local charities will be carried out by the Rotary Club of Great Britain. A fund of 3,500 Pound will be distributed by the race team, but it's expected that this sum will be significantly increased by local initiatives at each venue. Details on how to contribute or even get involved will be released very soon.

Starting in Salcombe on Thursday 21 June 2012, the team will stop at Newlyn, Swansea, Douglas IOM and Troon, before transiting the Caledonian Canal with an overnight stay at Inverness, then Edinburgh, Hull, Chatham and lastly Portsmouth before returning to Salcombe, to complete the 2000 mile journey.
The format of each event is the evening arrival of the boat from that day's sector, without fanfare, because weather and sea conditions deem it impossible to predict the arrival time and the boat must be cleaned, checked and refuelled for the next day.
Each new morning will see a charity interaction event from 09.00 until 10.00, followed at 10.30 by the flag to start to the next leg of the trip.
It is hoped that some of the children and their families will be able to meet the GB racing team, touch the boat, or be photographed in the driver's seat holding the steering wheel. Personally autographed photos will be available, to be taken away and cherished.
The boat will have onboard cameras for the E-Lites RB Charity Challenge and its progress can be followed on the internet and on Facebook and Twitter pages, a Spot Satellite Messenger will also track progress every step of the way. During next year's Cowes to Monte Carlo race 'The Venture Cup' the teams supporters will be able to follow progress via television and interactive media.