The intense battle of the UIM F1 World Championship concluded with a happy ending for French driver Philippe Chiappe of the China Team on the Khaled Lagoon course, on occasion of the UIM F1 Grand-Prix of Sharjah, U.A.E. Under the eyes of UIM President Dr. Raffaele Chiulli, the veteran driver from Rouen managed to survive two restarts and 37 laps around the five-pin 2.2 kilometre race circuit at the fifth and final race of the 2014 season, beating by 6.55 seconds the defending champion Alex Carella.
"It was a stunning experience not only for me but for the whole team that has worked so hard for many years to make this victory possible," said Philippe.
For the Qatar Team it was again both drivers on the podium, but this time the win escaped them, as the Italian Carella had his championship streak stopped at three years straight seasons. Meanwhile, his American teammate Shaun Torrente was forced to settle for his third place finish 13.41 seconds back of Chiappe, along with his third straight podium, good enough for third overall in the championship. "It was disappointing for us not to win this title since we had such a nice lead after the first two events with back to back wins," said Alex. "Well, congratulations to Philippe and we will just have to work harder to get the title back next season."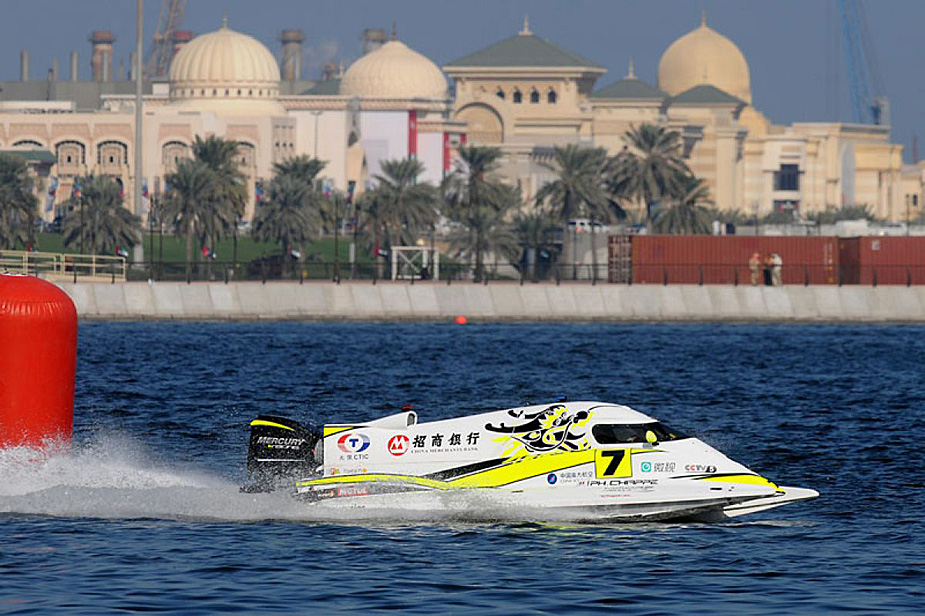 The CTIC China Team driver and UIM F1 series' World Champion, Philippe Chiappe finishes with 70 points with two wins and four podiums in five races for the season just ahead of the pair of Qatar Team drivers Alex Carella with 62 points on a pair of victories and Shaun Torrente's 56 points after a win in November in Doha along with three podiums on the year. Just missing the podium was a two time winner of the event Sami Selio as the driver from Finland fought hard to take fourth place in his Mad Croc Baba Racing boat two seconds behind Torrente and fourth overall for the year with 33 points.
The 2014 season has come to an end with a wonderful Gala and spectacular fireworks display and now all eyes will turn to the start of the next 2015 season.